scratchbeck.net noise turntablism
A Stefan Beck project archive on noise music and turntable art (turntablism).
Uplink Factory, Tokyo 2002
Some time ago...
Hüttenmusik III
Ted Kaczynski, Unabomber, Manifest, Die Industrielle Gesellschaft und Ihre Zukunft
Turntable performance at Mousonturm, Frankfurt.
- Tue., 4.4. 2006, 20:00 more...
Geräuschseminar
- Fri., 24.3. 2006, 22:00 at IVI, Kettenhofweg 130, FFM more...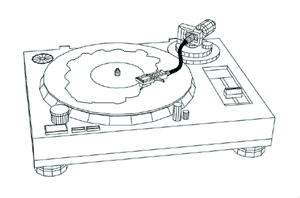 Vinyl ecstasy
Very quick, some soundfiles:
Equipment used on the tracks
Technics 1210, Behringer 2004, Bellari Tube Compressor, Waldorf 4pole, Sherman Filterbank, Zoom 505, Zoom 508.
No MIDI, no computer, no sampler. Recorded live direct to tape.
Available CDs
Musik für Bankangestellte (music for bankemployees) 1999
MO.S.O.M.cord 2000
Overvoice Recordings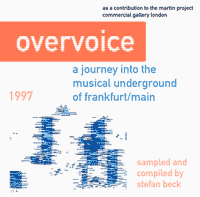 The sound of Frankfurt underground! (A journey into the musical underground of Frankfurt/Main.)
1997 experimental CD resulting from audio recordings done in Frankfurt clubs around 1995 and 1996. (A contribution to the Martin Project at Commercial Gallery London.)
46 tracks, 71min, limited edition of single CDs. (For sale EUR 30,-)
DAT Sessions
Special offer
Single CD-Rs from recent noise sessions, recorded live on DAT.
Choose from DAT No. 15 - 63, first or second hour. (For sale EUR 30,-)