Stefan Beck live performances
:play_beck :play_beck :play_beck :play_beck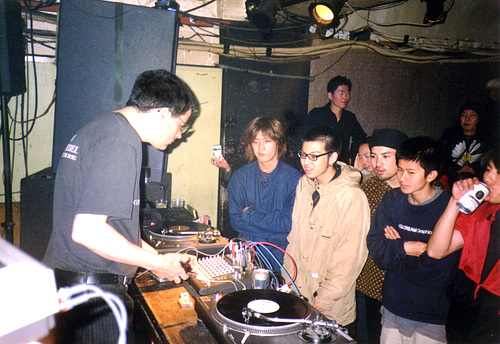 Club Metro, Kyoto, 6.11. 1999
Fotoshop
Berlin, 22. Feb. 2007
Double concert starting at the very small very special Fotoshop space in Berlin Mitte. Extending into the more stylish Blitzteam club just round the corner. [ more...]
Mousonturm
Frankfurt, 4. April 2006
Hüttenmusik III - a sound play on the UNAbomber trial.
Ted Kaczynski has produced a record for this event. [ more...]
IVI

Frankfurt, 24. March 2006
At an old now nearly defunct lecture building of the university. Turntable performance on the nature of the Geräusch. Ten paying guests. [ more...]
Raum für Kultur

Frankfurt, 19. Jan. 2005
Two turntables, two records - that's enough. Anonther high pitched scratching performance for the "Frequenzen" event. [ more...]
Buro21

Malmö, Sweden, 15. Jan. 2004
"Smart tysk turntablist" delivered a lecture on noise music and a scratching session which rocked the place.
OFF SITE
Tokyo, Shinjuku, 25. Oct. 2003
Everything a surprise, turntablism without turntables. OFF SITE is an all-bring-in low noise place (because of the neighbors!). Did a little hiss with the Japanese.
ExZess
Frankfurt, 18. Jun. 2003
After a long break a concert finally battling with Buckettovsissors: turntablism vs. industrial noise. Shokked the punks.....
hr2 radiostation
Frankfurt, 06. Dec. 2002
Spin the records and flip the needles! The ultimate scratching session ever brought to radio. See scratch_beck.
uplink factory
Tokyo, Shibuya, 15. Nov. 2002
instreams 5 featuring noise turntablists. The japanese "challenge" was quite mellow. Answered with heavy scratching to the Australian girl group "kunt". [more...]
HAL

Antwerpen, 01. Nov. 2002
More scratching on the occasion of the presentation of the Metronome Nr.7 Bastard remix edition. Together with local sound artists.
Goldfinger Bar

Frankfurt, 26. Oct. 2002
First public scratching performance. Once again outcries from the audience: "Stop it!" - within the first minutes. They know very well what to expect...
Goldfinger Bar
Frankfurt, 03. Apr. 2002
"Stop this at once - asshole" was the first reaction of some drunken punters. But even a filthy former table dance club needs some noise from time to time.
Schutzkontakt Kiosk
Frankfurt, 24. Mar. 2002
Minimal performance at a local "off-space". It is still possible to produce heavy noise with a tiny mixer (Behringer 804) and just two effect devices.
Excess Keller
Frankfurt, 05. Jan. 2002
On the hardcore floor of (Bembelterror) Martin Kliehm's birthday party. According to serveral witnesses slight panic occurred.
Club Metro

Riga, 07. Apr. 2001
Invitation by x-change/re-lab to perform on the occaison of the BSRIC (Baltic Sea Region Identity Conference).
Hessischer Rundfunk hr2 Crossover Sound
Frankfurt, 10. Nov. 2000
Live performance on the HR2 radio station: Casino Royal, a 50min piece on the fall of the Berlin wall. A new concept of radio play (Hörspiel).
Club Metro
Kyoto, 06. Nov. 1999
Shocking guests of a Hip Hop party at the best club of Kyoto. Playing with a real club PA can be really fun. See more at multi.trudi Japan 1999.
Voice Gallery
Kyoto, 02. Nov. 1999
First in Japan with minimal equipment brought from Germany. Everything including records was borrowed. See more at multi.trudi Japan 1999.
Schirn Kunsthalle
Frankfurt, 27. Jul. 1999
With only three paying guests this horrible noise performance was labeled "U-Musik" (entertainment music) by the GEMA (ass. f. mechanical rights).
SpacePlace
Frankfurt, 27. Mar. 1998
The first public performance with the noize-concept setup ever. The effect on the audience of the then illegal SpacePlace club was devasting.
Similar Pages