scratchbeck 2005
A turntable performance at "Raum für Kultur" of Dresdner Bank, Frankfurt, Wed. 19.1. 2005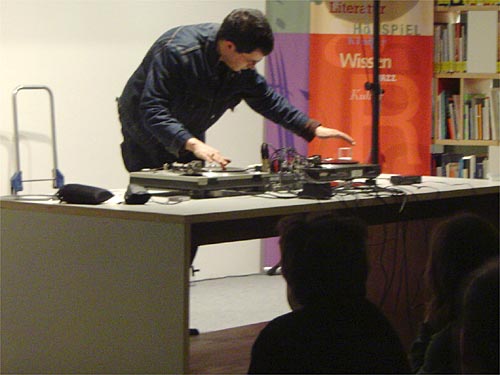 Starting Lecture
Über "Sinn und Funktion des Plattenspielers in der zeitgenössischen (Club) Musik"
(on concept and function of the turntable in contemporary (club)music)
Abstract
The origin of turntablism in 70s rap in the New York Bronx. (With some reference to older examples like musique concrete)
The turntable as loop machine. The beginning of sampling.
Whom does the turntable belong to? Is it one's own instrument (das eigene Instrument)
What does "own" mean in relation to an instrument or a turntable?
Is the turntable really an instrument?
The turntable as a meta-machine to produce new things from already existing things. Bourriauds concept of "Post-Production".
The use of the turntable by conventional DJs and turntable artists.
Audio
- start missing, but better quality scratch_beck_2005a
- the whole performance (42:46min, mp3, 64kbps)
Video
- the first impression, a short MPG movie
Lecture:
- Introduction in German: Über den Plattenspieler
Video Docu
- scratchbeck 01 (2:43 min) Windows Media small | bigger
- scratchbeck 01 (2:43 min) MPEG small
Last update: 08.02. 2005 - 22:31
Similar Pages